In this post, I'm going to veer off personal finance a little bit and do a review of Grammarly, the app I use to enhance and hone my writing. Why do a Grammarly review on a personal finance blog? Simple! If you make money by writing (whether through blogging, copywriting, editing, and so on), you need to perfect your craft, and Grammarly is there to help you with that.
So let's hop right into Grammarly and how it will help you improve your writing in everything you do.
Grammarly Review: What Is Grammarly?
Grammarly is a free spelling and grammar checking tool. You can use Grammarly to check your writing and fine-tune your writing style based on who you're addressing and what type of tone you want to portray.
What does that mean? Well, let's look at a screenshot of Grammarly's "Set Goals" screen.
You can see above that you have the options to choose your audience, how formal you want to be, your domain, your tone, and your intent. By giving Grammarly direction, the app can better help you write more compelling content to your audience.
Grammarly will also tell you the tone in which you are writing, such as
Confident
Cautious
Neutral
Informative
And many more
You see, Grammarly isn't merely a spell checker and grammar corrector. It's a full-on writing assistant!
How Does Grammarly Work?
The best way to get started with Grammarly is to sign up and log in to their web app. Once you're logged in, you can start typing, and Grammarly will offer suggestions as you go.
Grammarly offers suggestions in the areas of your:
Correctness: spelling and grammar
Clarity: style of writing, sentence complexity, and length
Engagement: diverse use of words and engagement with the audience
Delivery: confidence and formality
You can also use Grammarly's plagiarism checker, which checks your writing against millions, if not over a billion websites, to see if you've plagiarized someone's work.
In the world of blogging, journalism, writing, or even writing essays for school, plagiarizing content will get you in a word of hurt, and Grammarly's plagiarism checker is there to make sure you aren't.
What Does Grammarly Premium Offer?
Looking for features of Grammarly Premium? Look no further! Grammarly Premium provides advanced feedback on all four areas mentioned above, including:
Consistency in spelling and punctuation
Fluency
Readability
Compelling vocabulary
Lively sentence variety
Confidence
Politeness
Formality level
Inclusive language
Plagiarism checker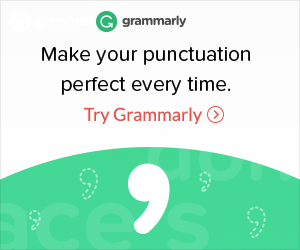 If you're serious about writing, whether via blogging, or any other avenue, consider getting a Grammarly Premium subscription. I picked up Grammarly Premium on the first day that I started The Dollar Blogger because let's face it, my spelling and grammar, not to mention writing style, could definitely use some fine-tuning!
Not only do I blog, but I also write a lot of emails to companies I correspond with, and Grammarly can be plugged into MS Office (Word, Outlook, etc.) and Google Docs, making it the perfect companion to write effectively all the time.
This is why I highly recommend Grammarly Premium to anyone who writes regularly.
What Does Grammarly Cost?
Grammarly has a free version and a pro version. The pro version has three pricing plans:
Monthly: $29.95 per month
Quarterly: $59.95 per quarter ($19.95 per month)
Annual: $139.95 per year ($11.66 per month)
There is currently no Grammarly free trial nor student discount, but Grammarly is priced fairly, in my opinion, especially if you take advantage of the annual plan. Considering how improved all of your writing will be, I don't think I'd ever cancel Grammarly Premium for the lifetime of this blog. There's just too much value!
Is Grammarly Worth It?
Grammarly is totally worth it! I use Grammarly every day for writing blog posts, writing emails, and even in my day-to-day posting on social media. When I first signed up for Grammarly's annual plan for $139.95, I was a little apprehensive about whether or not I had gotten my money's worth, and let me tell you, ten minutes went by, and I knew I had made the correct decision to purchase Grammarly Premium.
If you don't feel the app is enough on its own, you can also have professional editors edit your content through Grammarly's "Get Expert Writing Help" feature. These editors will help you enhance your content even further beyond what you could normally, and at a very affordable rate.
Using Grammarly In WordPress
If you're a blogger or are considering going into blogging to make money, Grammarly works great with WordPress. While writing in the Gutenburg Editor, Grammarly will show you spelling and grammar suggestions for each paragraph that you write.
That way, you can keep your paragraphs consistent and correct your writing block by block. I find this extremely helpful.
Can I Get Grammarly Premium For Free?
You can't get Grammarly Premium for free, but you can save a lot on it! Here's the trick:
Use Grammarly regularly
Occasionally, Grammarly will email you stats about your writing, and they may send you up to a 40% discount if you sign up for Grammarly Premium.
Wrapping It Up
Grammarly is one of the best investments I made into The Dollar Blogger and my emailing and social media posting. I never realized how many grammatical errors I regularly make and inconsistencies in my writing until I purchased Grammarly Premium.
If you're considering writing seriously, try out Grammarly today.
What is your favorite Grammarly feature that helps your writing the most?